The rectifier bridge is to seal the rectifier tube in a shell. It is divided into the whole bridge and the half bridge.
The whole bridge is to seal the four diodes of the connected bridge rectifier circuit together.
Half bridge is to seal half of the four diode bridge rectifiers together.
Two half bridges can be used to form a bridge rectifying circuit.
One half bridge can also be used to form a full wave rectifying circuit with a central tap of the transformer.
The rectifying circuit and working voltage should be considered when selecting the rectifying bridge.
As a kind of power component, rectifier bridge is very extensive. It is applied to all kinds of power equipment.
Circuit diagram of three-phase rectifier bridge three-phase rectifier bridge is also used to replace AC current with DC current,
so the difference with single-phase rectifier bridge is that the structure of six chips can complete the rectification of three-phase AC.

Connection skills: four diodes are divided into two groups, two in series, i.e. one positive diode is connected to the other negative diode,
and then two groups of diodes in series are connected in parallel, i.e. positive and negative diodes are connected.
Contact: two positive poles are the negative poles of the output,
two negative poles are the positive poles of the output, and the remaining two contacts are the AC terminals of the input.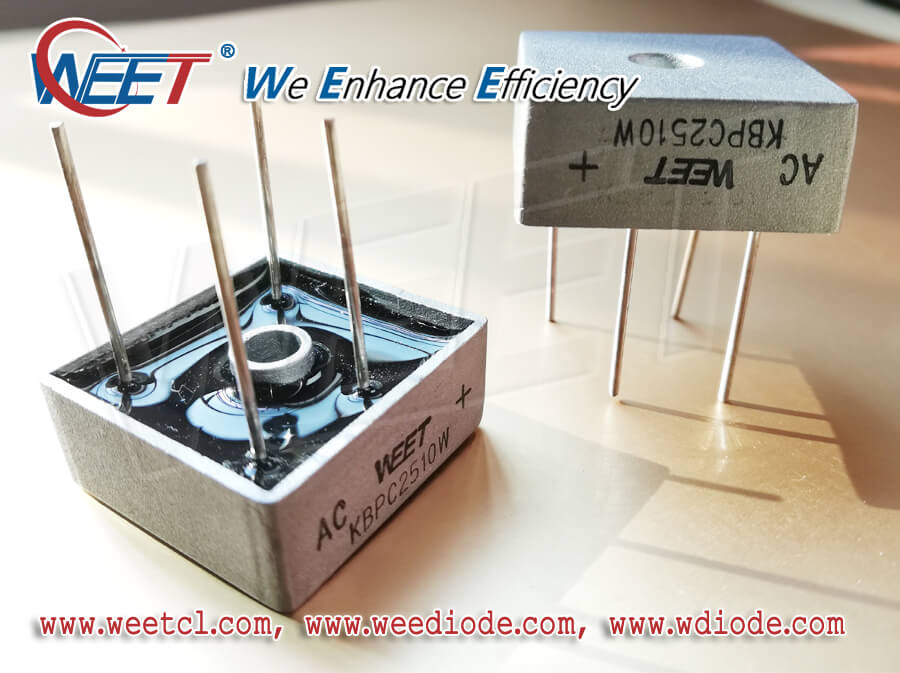 WEE Technology Company Limited
Manufacturer of Surface Mount (SMD) and Through Hole (DIP) Diodes & Rectifiers
Website: www.weetcl.com, www.weediode.com, www.smddip.com, www.wdiode.com
E-mail and Skype: info@weetcl.com, info@weediode.com
Twitter:https://twitter.com/WEETechnology
WordPress:https://weetcl.wordpress.com
LinkedIn: https://www.linkedin.com/company/weetcl
YouTube: http://www.youtube.com/c/WEETechnology