WEE Technology in year 2008 combined a bridge rectifier's factory in Anhui province, which is located near to Jiangsu.
Most of the famous bridge rectifiers have more than 500 employees, as well as WEET.
In this filed, another famous factory is Yangjie, WEET do a part of the OEM products for them too.
With high quality and good service, WEET bridge rectifiers has become more popular now.
WEET Bridge Rectifier devices are provided in a variety of packages including SMD, Dual In-Line,
Single In-Line, Square Type, Round Type, and three Phase Bridge Rectifiers.
Voltage:40V, 50V,60V, 100V,200V,400V,500V,600V,800V,1000V
Current:0.5A, 1.0A, 2A, 3A, 4A, 5A, 6A, 8A, 10A, 15A, 20A, 25A, 30A, 35A, 50A.
Packages: MBS, MBF LBS, ABS, MBM, DB, DBS, WOM, MBM, KBP, GBP, KBL, KBU, GBU, KBJ4(3S), KBJ6(5S), BR6,
KBPC6, KBPC8, KBPC/KBPC-W, BR/BR-W, BR-L, KBPC3(BR-3), GBPC, GBPCW, S35, S36, D4K
https://www.weetcl.com/Single_Phase_Bridge_Rectifiers/
http://www.21yangjie.com/searchBridge.aspx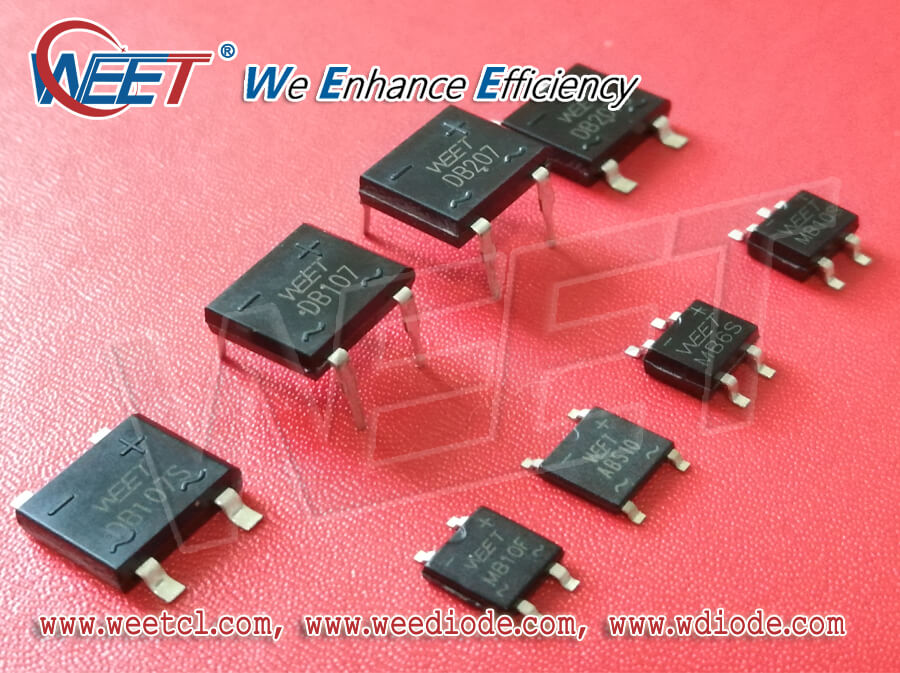 WEE Technology Company Limited
Manufacturer of Surface Mount (SMD) and Through Hole (DIP) Diodes & Rectifiers

Website: www.weetcl.com, www.weediode.com, www.smddip.com, www.wdiode.com
E-mail and Skype: info@weetcl.com, info@weediode.com
Twitter:https://twitter.com/WEETechnology
WordPress:https://weetcl.wordpress.com
LinkedIn: https://www.linkedin.com/company/weetcl
YouTube: http://www.youtube.com/c/WEETechnology